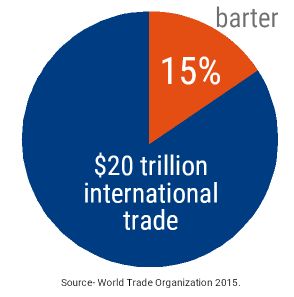 Barter is back in style and spanning the globe
An estimated 15 percent of the $20 trillion in international trade last year was in the form of barter, according to the World Trade Organization. Asia, Australia and Europe all have thriving barter markets.
Bartering in Business
Barter is the oldest form of doing business. Yet today's traders are switched on business owners with a fresh set of priorities.
Today's companies barter for a number of reasons, from getting rid of excess inventory and finding new customers to conserving cash and building a property portfolio.
Whatever your motivation, join our B2B Barter members who enjoy the lowest fees for bartering (from just 5% one way), low monthlys (from just $11/m admin fee) and the convenience of online transactions.
We offer seamless conversions and onboarding from other trade exchanges, and welcome businesses new to barter trade as well.